Termin: 5.2.2013. - 6.2.2013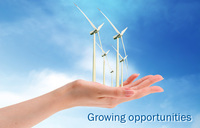 Jump to the UPDATED PROGRAM

Every year, the EWEA Annual Event takes on a new theme that fosters progress and industry growth. EWEA 2013 will focus on providing participants with real opportunities to help them find the real growth.

Emerging wind energy markets is one such opportunity. With a strong knowledge base for Europe's established wind energy markets already in place, it is time to look further afield, towards the emerging markets where undiscovered wind energy potential lies.

EWEA 2013 Annual Event brings together international companies, industry experts, policy makers and research communities, providing an excellent platform to discuss the future of wind energy and its growth markets.
Scope
EWEA and the Austrian Wind Energy Association organize a workshop program in cooperation with various Central and Eastern European National Wind Energy Associations and other emerging wind markets.

The workshop will take place on Wednesday, 6 February and Thursday, 7 February at the EWEA Annual Conference.

The purpose of the workshop is to facilitate the identification of possible synergies and partners for promoting wind energy in Eastern Europe. Vienna, the door to the Danube region is a very suitable location to discuss how wind energy in Central and Eastern Europe will develop in future.
Program Chair - REpower

"Evaluating and entering new markets is one of the future key business activities global wind players have to take into consideration as mature markets are showing lower growth rates while several new markets offer great opportunities and are catching up in terms of renewable policies and infrastructures.
Therefore it becomes crucial for us to enter new markets. Our customers reflect this development by showing cross boarder activities and entering new markets as well.
Another good example is Austria. Its renewable market environment shows dynamic business opportunities. For this reason we as REpower are happy to discuss macro-environmental developments in emerging markets at the EWEA - the leading platform for the European wind business industry"

Kyriakos Kosmidis, CEO Europe, REpower
Why attending?
Companies, politicians and specialists from different sectors will discuss the ongoing process of wind energy integration in their specific countries and in Eastern Europe as a whole.

The presentation blocks will give you a thorough overview on the topic combined with in depth knowledge of experienced presenters offering different perspectives of the situation on emerging Wind markets.
Program & Registration
More Information on the Program and Registration Details
The Program is hosted by

Erste Bank Group
www.erstegroup.at
Klima- und Energiefonds
www.klimafonds.at

Federal Ministry for Transport, Infrastructure and Technology
www.bmvit.gv.at
Weiterführende Links:
EWEA online registration process
EWEA Annual 2013
EWEA 2013 - Emerging Markets Program
Erste Group
Klima- und Energiefonds
Federal Ministry for Transport, Infrastructure and Technology